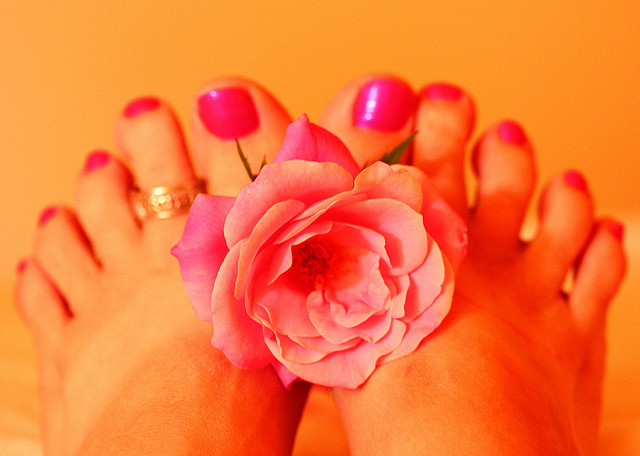 It was an ordinary, summer day. Several friends had generously given me a gift certificate for a free pedicure, and I planned on taking advantage of it.
I strolled into the salon-that-shall-not-be-named, expecting a therapeutic experience. After all, I was/am the mother of two energetic, crazy boys who sometimes act more like chimps than children. (There's my husband, too, but he's another story). I DESERVED pampering. Yay verily, I desperately needed it.
I might have guessed that the pedicure would not end well when the woman who greeted me  brusquely asked what color I wanted my toes painted. When I answered, "pink," she pinched her face up and parroted, "PINK? Why PINK?"
Dear reader, is it not my choice what color I want my toes to be? Pink is my favorite color. Would the salon employee get a commission if I instead picked cerulean or ochre? Her reaction left me flummoxed, not relaxed. I decided then and there that my hostess would have been more at home in a court of law than courting customers.
After the color war, my assigned anti-pamperer's foot care could only be described as rough (at best) and tortuous (at worst). I know the sides and back of my feet have callouses as big as Kanye's ego, but the Salon Defense didn't have to try digging to China to make her case.
Finally, I was instructed to put my feet under the sun lamp, to dry the contested pink polish, but because The Defense talked as quickly and quietly as my teenage son, I didn't understand what she was saying. She rolled her eyes and clucked her tongue, and I knew I was going to completely lose this case of therapeutics.
Listen, lady, I wanted to say, I'm not one of the high-rise Hollywood elite; I seldom have the extra money or time to pamper myself. When I do, I'd much rather get a massage than a pedicure (especially now). There's no need to take me down!
But I smiled my biggest, sweetest Texas smile and resolved to talk to her boss. Maybe she read my mind, because as I was giving her the gift certificate, she talked to the other employees (again, too low for me to hear). Her gestures and body language told me all I needed to know about what she thought of me.
Sigh. My spirits were not quite pretty in pink. And I simply had no desire to re-create a Seinfeld episode.
Perhaps she was just having an off day. But shouldn't the customer be queen, not criminal?
I put those thoughts aside and ruled against making a pedicure scene. But I decided: in the future, I'll take my tootsies elsewhere or pamper them at home…where I can watch my favorite Seinfeld and exfoliate in peace.
Photo by Pink Sherbet Photography. Creative Commons, via Flickr.
7